Environmental Weekend for Addingham, Self-guided Walks May 15th and 16th
13th April 2021
Following the disappointment of our cancelled Environment Weekend last year the Environment Group has planned an alternative for this year. In order to stay safe we are organising some self-guided walks in the village. The walks will pick up a range of points of interest that link to our environmental themes of Biodiversity, Zero Carbon, Zero Waste and Sustainable Water.
You will be able to design your own route to cover all the points that interest you. Here is an early draft of one of our maps to illustrate the idea.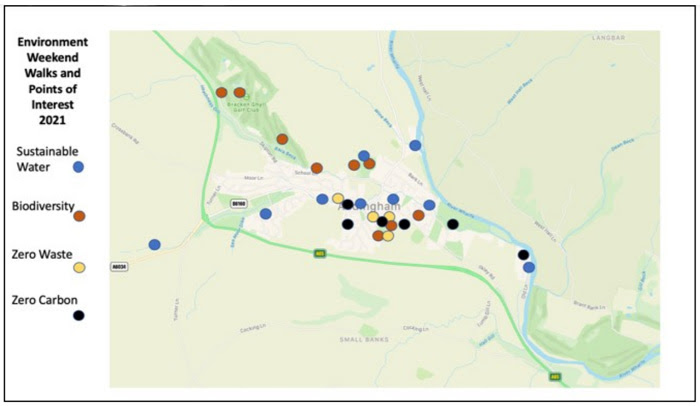 There will be three outdoor "hubs" at which someone will be available with
information and a display, and at some of the points of interest there will be activities. We are delighted that St Peters has agreed for us to use the Church Field as one of the Hubs and we will be inviting families to end their walk in the field and, weather permitting, bring their own picnic.


There will be a map leaflet available closer to the weekend but if you own a smart phone or tablet all the information will available on our website and the points of interest will each have its own QR code linking to further information. And finally, but most importantly everything is being planned to take account of Covid safety.

So do put the dates in your diary 15th and 16th May and look out for further information.